Barcode Tools

Barcode Font Home
Online Barcodes
Desktop Barcodes
Barcodes For Excel
Postnet For Excel
Barcodes For Word®
Word® Barcode Tutorial Product Support
Installing Barcode Fonts
Contact Us
Affiliate Program
Consulting


Developer Support

Barcode Font Home
Code128 Samples
Code128 Specs
Installing Barcode Fonts
Preview Code128 DLL
Commercial Licensing
Consulting

<<Go Back

During this time of economic turmoil, every penny counts. I've decided to offer licenses for the extremely low price of $2.00. There are, of course, conditions to the sale. I'm looking for American "Junk Silver." These are coins minted by the United States before 1965, and include dimes, quarters, half dollars, and dollars in any combination. Got eight quarters? Or four quarters and ten dimes? Or how about four half dollars? Or two half dollars and ten dimes? Whatever! If it's $2.00 face value, made up of dimes, quarters, half dollars, or dollars, and minted before 1965, I'll take it.

If you would like to pay in Euros, I would accept €1,50 per product, provided payment is made in Austrian Philharmonics, the only silver Euro coin I'm aware of.

Canadian Junk silver is also accepted, at a rate of 2.25 per product.

If you have something else you want to trade or barter, let me know!

The following products are available for $2.00:
Code 128 Word Add In
Code 128 Excel Add In
Code 128 OpenOffice Extension
I2OF5 Word Add In
I2OF5 OpenOffice Extension

If your interested, please email me at brian@dobsonsw.com and let me know which product your interested in and the dates and face values of the coins you will be sending. I will forward along the address to send them to and, upon shipping confirmation, a registration code good for ten days.

Once received, you will receive the permanent registration code in your email.



Current Silver Prices: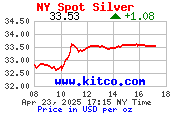 $2.00 Face Value US Junk Silver = 1.4468 Ounces of Silver
An average value of $10.00 per ounce = $14.45 silver value in $2.00 face value coins.
<<Go Back

Developer Notes: