I2OF5 Barcode Extension For OpenOffice Calc:
Can your business prosper by automation? Do you need to eliminate tedious data entry, freeing your employees up for revenue generating activities? Are you a small business owner that needs to save time? This extension provides all that and more. This is a fully functional shareware barcode extension for Calc. It may be downloaded below. This barcode extension is fully functional but until it is registered it will return a "Please Register" string each tenth time it is called.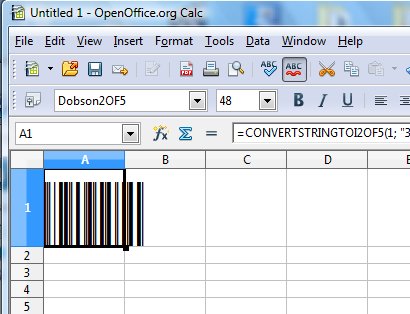 Cross Platform and supports Windows, Macintosh, and Linux

Download Trial
$34.95
Add To Cart And Checkout with:

Registration code will be sent automatically from "support@dobsonsw.com" upon cleared credit card payment (typically within 10 minutes of purchase, but may be longer due to fraud checking.) Please check your email for registration information.
To install, download the zip file and extract it. Then follow the instructions for your platform in the readme file.
To use, click in the cell you want your barcode and select the "ConvertStringToI2OF5" function. Then, as the InputString arguement, select the cell whose data you want encoded. For the pad arguement, select 1 to allow the function to pad the string or 0 to be warned of odd length strings (I2OF5 only allows even lengths of numbers to encode.)
Then set the cell's font to "Dobson2OF5"
Some knowledge of using Calc is essential to the use of this OpenOffice barcode extension.

Customer Support:

To access customer support, simply navigate to
http://support.dobsonsw.com
and initiate a support ticket. Your privacy is important to us. We will not sell, give away, loan, lend, or in any way misuse your email address. You can expect emails from us for two reasons. Either we are responding to a support request you have initiated or we are informing you about a substantial update in software you have registered (upgrades are normally free.) We do not SPAM. We do not tolerate SPAM. Period.